Ira Stein's raw vision of humankind is presented through his series of what he has termed "psychoanalytical portraiture." His paintings are generated by an intensive interrogative process where the sitter's perception of self is re-examined and repressed emotions are unveiled.
Unapologetically, Stein's artworks bluntly place free will against genetic determinism. Stein disrupts the conventional explanation of the essence our beings by dismissing environmental factors as the root cause of our actions. Unequivocally, Stein screams that genetic determinism is the overriding cause for all our compulsions.
His unique approach to art production results in the tearing down of the inherent self-aggrandizement of portraiture and presents his models as he sees them – survivors. His portraits capture both the uniqueness of women and the difficulties they face in life. In this exhibition, expressions of sorrow, power, apathy, and desire are inventively shown alongside intimate testimonials and Stein's unfiltered questions. The summation of his art project being distilled to the very essence of our being – genetics.
---
---
---
---
---
It's your wedding day. So why aren't you happy? The day comes and you're walking down the aisle. Once again that same horrible feeling comes over you. It's plagued you ever since he proposed and you accepted. Your hands begin to sweat, your heart rate quickens, but you continue the walk. You look around and see all the people watching. Friends, family, guests, yet all you can think is…. Why am I doing this If I stopped now, what would people think. What would my father think? What about all the gifts and the cost of the ceremony and honeymoon? What would I say? How would I explain this decision to my future husband? Do I just stand up and say, "I'm so sorry but, I can't go through with this because I don't love him". Or, do I do take a path of least resistance and marry him anyway?
The Best Dancer I Ever Saw SYLVIE GUILLEM
---
"Is there anything you do that you wish you could STOP doing but can't?"
~ Ira Stein
Colette has been modeling for me since she was 19. She's now 21 years old. She has participated in my process until her unique story can be transformed to art. I know so much about her life, yet her story continues to unfold. This is our second piece together.
Understanding her greatest fear, that she'll never be loved, Colette spirals into an inescapable desire to be accepted, creating tremendous disappointment, and therefore continues on a path of self destruction.

Do you believe she can change? Is there anything you do that you wish you could STOP doing but can't?
---
---
---
Sara graduated magna cum laude from UCLA film school. Her father had no use for her. He loved her brother and sister, but not her. As I got to know her, I saw how mental illness was the destructive force between her and her father. He never understood her illness and yet he was clearly mentally ill as well and passed that gene onto her.
She also told me that when she was young her breasts gave her power. However, as she aged, they became a more destructive part of her than a benefit. Her breasts are what all men are interested in. Hence the title, "Do you know me?"
---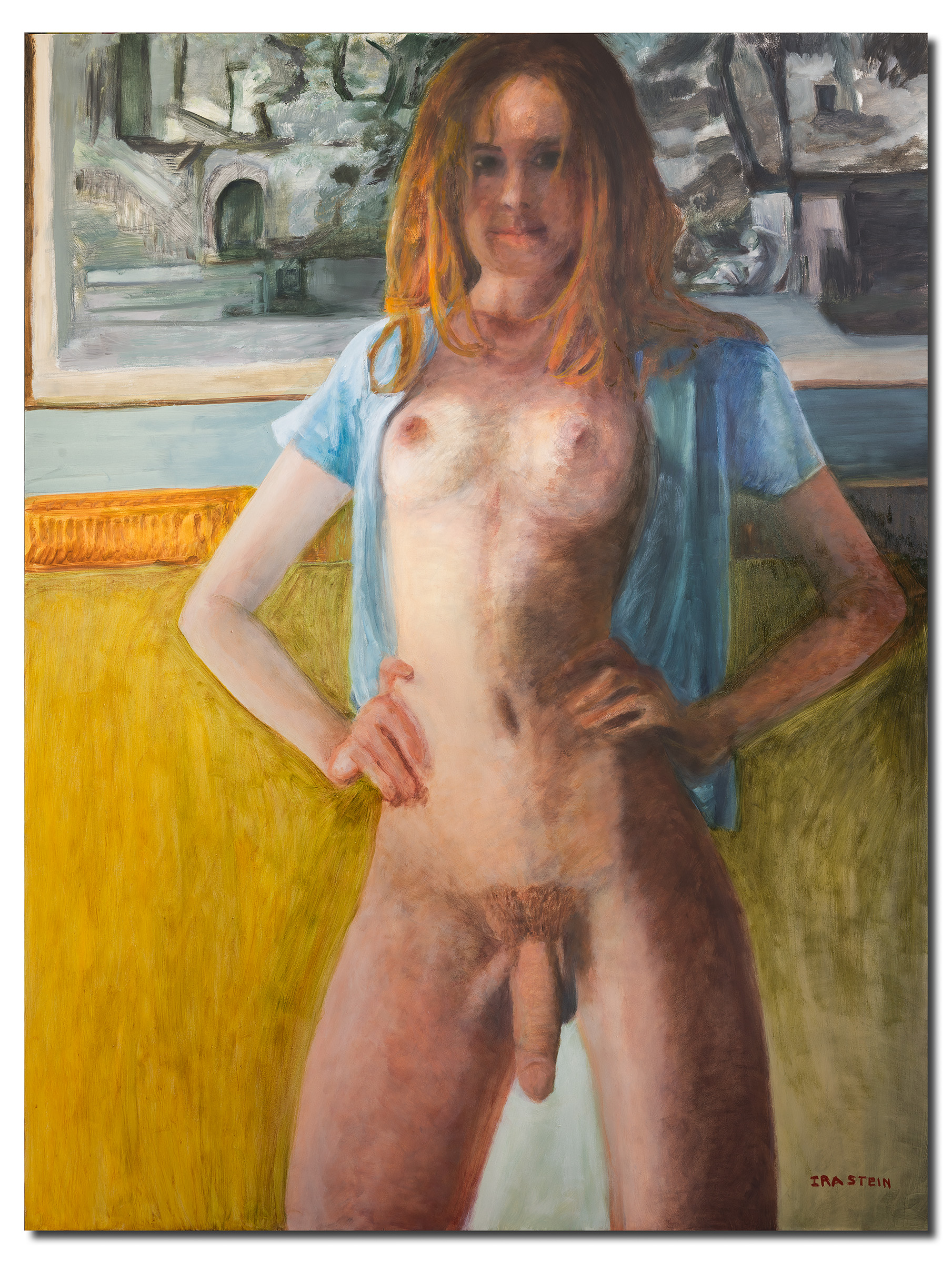 I wanted to do a piece of art on a transgender person because that speaks directly to genetics. During our sessions, we talked about her way of life and her unique perspective on gender identity.
MIKE sees herself as a beautiful woman with a penis. She realized at an early age that men found her fascinating and would pay to be with her. She now is in very high demand as an escort and has a marvelous lifestyle.   She says what makes her  truly unique are her female qualities combined with extraordinary male characteristics – such as wanting and loving sex. She boasts that she can always get an erection and always achieve an orgasm. She says, "I'm so thankful that God made me this way."
Let me ask you,
Do you know what a transgender person is? Do you know the difference between transgender and hermaphrodite?
What would you do if you were on a date with a beautiful woman and you discovered she had a penis?
---
Rhonda has a masters degree in dance from a prominent university and I was looking for a dancer as model. After two years of interviewing, she told me that her father raped her with a pencil. Her anger is directed at her mother for not protecting her (she knew). Rhonda still wants a relationship with her father.
---
Melissa watched her father beat her mother. She couldn't understand why her mother stayed in the relationship, yet she never questioned why her father did what he did. As our sessions continued it became apparent that she hated men – actually, she despised them. What was hard for me to grasp is that she still wants her father's love.
---
Tanya is from Tahiti – what I call the Devil's Island. She told me that there is a lot of mental illness on the island that is most likely a result of the rampant incest that goes on there. Several months into our talks, Tanya told me that she saw her mother jump off a cliff committing suicide. Six months after her mother died, her father molested her in the shower.

Tess is a bartender. Although very sweet and pretty, her relationships never lasted. She said she didn't choose well. She seemed to be depressed often. As we talked, she told me her greatest fear was being alone. It haunted her. We both drank a lot. Vodka on the rocks with a lemon twist. The portrait depicts her sitting on a bed, crying, with a drink, telling me about the morning she woke up and found her underwear around her ankles. She was 8 and this was the first time she told the story. It was her father.
---
Toni was born in Sicily and for the first 27 years of her life she describes how her father beat her EVERYDAY! She never mentioned her mother. One day she had enough of the abuse and ran away. She was 27 and thought everyone was beaten by their fathers until she arrived in America.
She has a son but is not married. She struggles with the intense anger of realizing how much of her life was lost. She can't seem to make any connection with men. She says, "I am very scared of men, they ruled my life for so long, I have no trust."
My portrait of Toni shows her falling thru the cracks not able to grasp on to something that will stop her fall until just before hitting rock bottom she says to herself….. "OH MAN UP!" As a result, she is able to get on with her life. Not happily, but proceeding day by day.
Can you imagine inheriting her father's genes?
---
I found Lea online. She's an escort. She loved my art project and wanted to participate. Lea became an escort because she would go out to dinner with a guy and was expected to have sex afterwards. It wasn't working. "Why have sex with a guy just because he took me to dinner? I'm worth so much more than a meal and conversation. I'm going to charge them." She says, "I love the power, I love the money, and I love the sex." She feels unshackled and in control.
---
Clare is a physical therapist. We talked a lot about her genetic background and found that her behavior was a duplicate of her mother's. Today they both talk about their issues freely with each other. She told me how she wishes she could explore her sexuality but without hurting the one she loves.
---
I wanted to do a project about sisters. Kathy and Melina wanted to participate because they thought it would help bring them closer. They loved each other but didn't like each other. I could see in the process of choosing the pose how the older sister just seemed to take a uniquely protective position while the other sister just naturally assumed the role of the submissive one needing protection.
Several years earlier, Kathy killed someone while driving. I don't think one can ever escape the memory of such a tragedy especially being the daughter of a very dominant and powerful mother and a submissive father.
Is your mother extremely dominant? Are you?
Do you have a weak father?
---
Featured in Apero August 2017 Catalogue
Evita cleaned the piss off my toilets for 35 years. It took her two hours each way by bus to get to my place. She had two boys with the common-law man she lived with. The boys were fully grown when he asked her to marry him. She was thrilled and said yes to him. The ceremony was beautiful. Full of people she loved and loved her. One week after the wedding she caught him fucking another woman.
---
I met Lettie at one of my shows. My assistant told me of a girl in a green dress who wanted to meet me. In walks this breathtaking woman and the first thing I noticed was the dress was stained. She immediately became my model. We drank booze during each session. It soon became apparent that drinking was an issue and so were the men in her life.
---
Moorea is always 82°, sun shining, light breezes, crystal water, PARADISE. The place is so fertile that you could stick your dick in the soil and it would grow. I spent a month on this island and worked with four models.
Model #1 is very sweet. She thinks her real father is her uncle. Doesn't care.
Model #2 is beautiful and wild. She and her friends go out, drink beer, smoke, steal, and have sex every night. If she has a second baby, it is the custom to give it to your grandmother to raise.
Model #3 is pregnant with her second child. The first sperm donor beat her. To get even, she got pregnant from No.1's best friend.
Model #4 is consumed by the island's customs. She constantly participated in rituals that were hard for her to talk about. She had no life.
Each of these women told me about the incest on the island – it is the biggest issue not talked about to outsiders.
---
Suzanne and Kristy are sisters and are not close. They agreed to do the project together although I never knew why. Suzanne was the dominant and most accomplished of the two with a remarkable work history. Kristy was nothing like that. Kristy had a daughter living homeless in Vermont. Suzanne was married four times, no children and was currently single. I always wondered why they didn't look anything alike.
One Christmas Eve, when they were younger their father committed suicide. Many years later Suzanne slit her wrists. Because it was so cold her bleeding slowed and her husband at the time was able to save her.
---
I met Sam when she was modeling for Laddie John Dill. She was a great model and I got to know her a little. I told her to come to the studio dressed in a way that she wants the world to see her. She arrived wearing a pale blue bustier and posed with one nipple sticking out, sitting on a stool, with her legs spread open, exposing her vagina. I felt that was not how she truly wanted to be seen. Sam's eyes in this painting are where her story truly resides.
---
---
visit iGallery on Saatchi online